As iron sharpens iron, so one man sharpens another.
At Ventura Missionary, we encourage everyone to be in a group, because we know that life is better together. If you have already been through
Rooted
, your next step is to get in a group! All of our groups include the following: connection with others, Bible study, prayer, and serving* opportunities.
*In the photo above, one of our men's group is getting ready to deliver some clothing they had purchased for a family with five kids in our community.
Finding a Group That Works for You
We will help you find a group that works for you so that you can begin to experience meaningful community.
Sermon-Based Group Series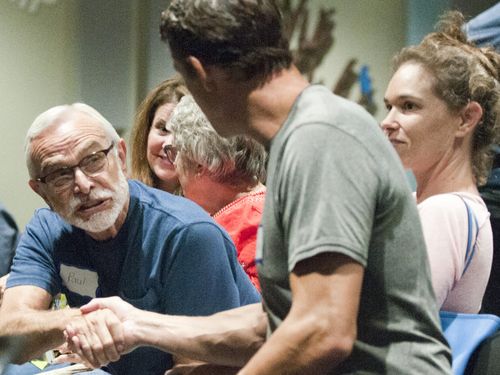 Throughout most of the year, we offer groups that coincide with our current sermon series. We provide discussion guides and other resources for the series.

To learn more about our sermon-based groups, contact us below.
We also offer a variety of other group opportunities throughout the year, including groups for men, women, senior adults, young adults, and more.
If you have been a group for a while, your next step might be to facilitate a group. It not only will grow your own faith, it is tremendously fulfilling to come alongside those who are growing in theirs. We host quarterly "Elevate" events to empower and equip our group leaders. If you're interested in taking this next step on your faith journey, complete the Facilitator Interest Form below.
If you already facilitate a group and have not yet registered your group, we encourage you to do so. This way, we will know to include you in training and equipping opportunities, share resources and more. Ventura Missionary groups connect in community, study the Bible together, pray together and serve together. Complete the form below to register your group.